High-Quality Hinsdale Exterior Remodelers
Our team upholds stringent standards for roofing, siding, and more.



No Payments & 0% for 12 Months
5 out of 5
Out of 49 Google Reviews

Hinsdale, IL Roofing and Siding Company
Exterior remodeling in Hinsdale is best left to Benchmark Exteriors, because we provide A+ BBB-accredited service for the modern era. Our team utilizes the latest software, drone, and satellite technology to engage our customers in the design process, so there's no question about loving the results that we will provide. We also offer 24/7 emergency storm damage solutions, and bilingual representatives for English and Spanish-speaking customers. Come to us for:
Top Roofing Brands and Expert Installation
Whether you need a new roof or a roof repair, Owens Corning and CertainTeed products provide the quality and style that you want. At Benchmark Exteriors, we offer these trusted brands along with quality roof installation to ensure the best results possible. Financing options make your remodel more affordable, and we back our workmanship with a 5-year warranty. Our
Hinsdale roofing
services include:
Emergency Storm Damage Inspection
12 Months 0% Interest 0 Payments
0% Interest and Zero Payments For 12 Months
For a limited time only, zero payments and 0% interest for up to 12 months on financing programs.
Reliable Commercial Roofing Solutions
When you hire Hinsdale
commercial roofing contractors
, you expect professional workmanship, timely service, and honest prices. We check every box at Benchmark Exteriors. You can count on us for your commercial roof replacement, repair, or storm damage inspection. Our team is experienced at working with a variety of roofing types including TPO, EPDM, BUR, and more.
Quality Siding Replacement and Repair
Home siding is your home's first line of defense against weather damage, mildew, invading pests, and high energy costs. As your Hinsdale
home siding company
, we take the integrity of your home's exterior seriously, providing only high-quality products from trusted brands like LP SmartSide and James Hardie. When installed by our skillful contractors, your new siding will last for years while providing all the benefits that your home needs.
Strong Gutter Downspouts and Gutter Protection
If your gutters do not direct water away from your roof and foundation properly, you could wind up with water damage to your roof and foundation, not to mention mold and pest problems. When it's time for
gutter replacement in Hinsdale
, contact Benchmark Exteriors for quality gutter downspouts and gutter protection. Our solutions ensure adequate water drainage and make it simple to keep your gutters free from leaves and debris.
Cost-Effective Solar Energy Products
Solar panel roofing cuts back on energy costs and dependence, adds value to your home, and qualifies you for tax credits. If you've been thinking about hiring a Hinsdale solar roofing company, then you've come to the right place. We will be happy to discuss the benefits of our
top-quality solar panels
and professional installation during your initial consultation.
Get a Free Quote for Exterior Remodeling in Hinsdale
Providing quality solutions for today's homeowners is important to us at Benchmark Exteriors. Contact us today to learn more about our wide range of exterior remodeling expertise, or use our online form to request a free quote at your convenience.
View Our Work Gallery Here
Awesome work!
We worked with Austin Juhlin after we had some roof damage from a storm. Austin was great to work with!! He helped answer any questions we had and helped us work with the insurance company. He was fast to respond anytime we reached out to him. We end...
Questions to Ask an Illinois Roofing Company Before Starting an Installation
Investing in a roof replacement for your Illinois home is quite a project. The installation can be expensive, time-consuming, and stressful. Hiring a reputable roofing company...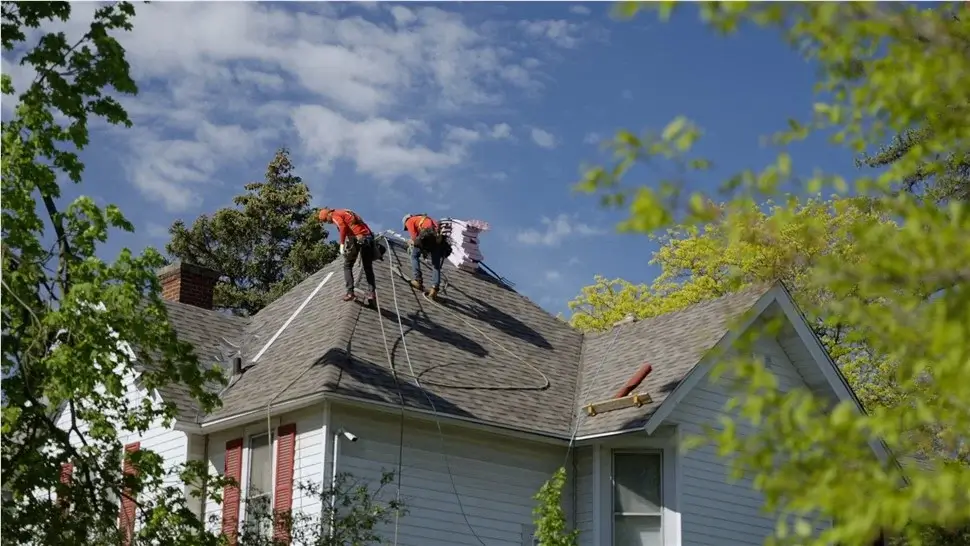 Residential Roof Install
Hinsdale, IL